Grant Jumps 'In Her Shoes' For Fox
[Monday, August 5th, 2002]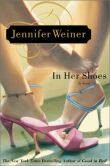 Susannah Grant ("Erin Brockovich") is stepping toward "In Her Shoes" for Fox, reports Variety.

Grant has agreed to pen the screenplay, based on Jennifer Weiner's soon-to-be published comic novel.

"Shoes" revolves around a sibling rivalry between an irresponsible party girl and her sister, an ambitious attorney, who move in together.

Weiner created a splash last year with "Good in Bed," her bestselling debut novel about a Philadelphia reporter obsessed with her weight and men.

E-Mail This Article » Share your comments on 'In Her Shoes'