Behind The Scenes & Full Trailer
[Wednesday, April 4th, 2001]
Coming Soon! got some footage of an announcement on Tuesday's 'Entertainment Tonight' show that they will have an exclusive behind-the-scenes look at the "Tomb Raider" movie, on wednesday (today). The caputured some of the footage and have got six pictures, click on the image below.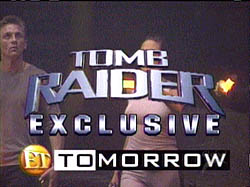 A soon as we get some more footage from todays show, we will post it. For now you'll have to settle for the preview.

The official 'Tomb Raider' site has posted the new full trailer for the film. You can goto the 'Tomb Raider' site by clicking here.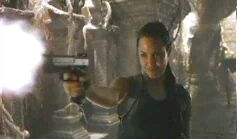 To download the trailers directly follow the link to our trailers section, click on the image above.
More On 'Lara Croft: Tomb Raider'...


E-Mail This Article » Share your comments on 'Lara Croft: Tomb Raider'