George Clooney & Zellweger Join 'Leatherheads'
[Monday, September 18th, 2006]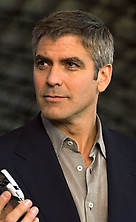 George Clooney is set to direct Universal Pictures football drama Leatherheads, says Variety.

Renee Zellweger is also in talks to co-star in the romantic comedy set against the backdrop of pro football's formation in the 1920s.

The story revolves around an aging football player who coaxes a college star to drop out and try his luck in a new professional league. Clooney is said to be currently rewriting the script. Production begins next spring.

E-Mail This Article » Share your comments on 'Leatherheads'