New Lord Of The Rings Pictures
[Tuesday, April 3rd, 2001]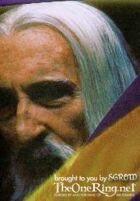 TheOneRing.net have posted some new pictures from the 'Lord Of The Rings' trilogy, from a insider in production. There are some great pics of Arwen, Boromir, Legolas and Saruman. You can view all the pictures by clicking on Saruman on the right.

Here are some of the pictures, click on them for a larger view:


More On 'The Lord of the Rings: The Fellowship of the Ring'...


E-Mail This Article » Share your comments on 'The Lord of the Rings: The Fellowship of the Ring'