The Fellowship Gets It's First Praises
[Monday, December 3rd, 2001]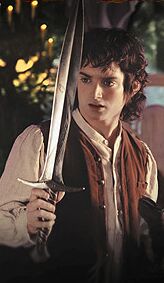 One of the first reviews of the first 'Lord of the Rings' film, 'The Fellowship Of The Ring,' says it has real passion, and rates it above the Harry Potter and the Philosopher's Stone.

Critic David Ansen, in Newsweek, says The Fellowship of the Ring has "real emotion, real terror and a tactile sense of evil that is missing in that other long current movie dealing with wizards, wonders and wickedness.

Director Peter Jackson's "fierce, headlong movie takes high-flying risks", he says. "It wears its earnestness, and its heart, on its muddy, blood-streaked sleeve."

He says Peter Jackson has the characters utter oaths to one another in a "quasi-Shakespearean language" that could have sounded ludicrous.

Jackson's camera work is said to fly like a hawk, "swooping and plunging into breathtaking scenes of blood and destruction".

However, Ansen warns that the film's heroes, including Gandalf the wizard, played by Sir Ian McKellen, are less well drawn than its evil characters. Cate Blanchett's golden-locked elven queen is dismissed as being "like mediocre, pre-Raphaelite calendar art".

The Fellowship of the Ring has its world premiere in London on 10 December.
More On 'The Lord of the Rings: The Fellowship of the Ring'...


E-Mail This Article » Share your comments on 'The Lord of the Rings: The Fellowship of the Ring'