Lord Of The Rings DVD Special Edition Pictures
[Monday, April 22nd, 2002]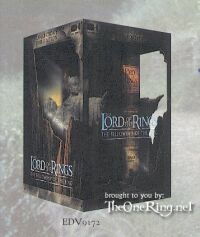 TheOneRing.net have recieved pictures of the Special Edition "Lord Of The Rings: Fellowship Of The Rings" DVD.

'Limited Edition' case which appears to be like a leather book on the outside, and has the words 'Extended DVD Version' on the front.

The Collector's DVD Gift Set box, designed by Alan Lee, includes the a 4-DVD set from above, two bookend statuettes by sculptor Sideshow Weta, the National Geographic "Beyond The Movie" DVD, and several collectible Decipher game cards. There is a rumour that a minidisc featuring a ten minute preview of The Two Towers, but that is strictly rumour.

A closer look at the Bookend Statuettes that come with the Collector's Gift Box, based on the Argonath from "Fellowship of the Ring" and sculpted by Sideshow Weta.
More On 'The Lord of the Rings: The Fellowship of the Ring'...


E-Mail This Article » Share your comments on 'The Lord of the Rings: The Fellowship of the Ring'