Hugo 'Elrond' Weaving Talks 'Return Of The King'
[Thursday, March 6th, 2003]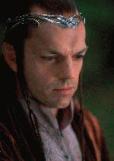 Elvish Elrond leader Hugo Weaving spoke with SciFiWire about the final Lord of the Rings movie - The Return of the King. He said that his character will have a brief but important role to play in the third and final film. "Elrond's not really a major character on the screen," said Weaving. "He sort of embodies certain elements of Middle-earth, and he's the character who understands the prehistory. He kind of brings with him the great weight of years. [He is] like 3,500 years old, ... so he's kind of been around."

"He needs to be there because of Arwen and Aragorn and their love story." adds Weaving. "And he needs to be there to express the fact that the elves are leaving as a people and that human beings are going to have to take over Middle-earth. So I guess he's telling an important part of the story, and he's stressing an important part of that world."

Weaving, who plays Agent Smith in the upcoming Matrix movies, says he is grateful that his role in 'Rings' was not as demanding as those of his fellow cast members. "It would be impossible for me to do that and The Matrix, too," he said. "I could go and play Elrond, because it wasn't a huge time-consuming role for me. But I was still over [in New Zealand] for quite a long time, just doing the small amount that I did."
More On 'The Lord of the Rings: The Return of the King'...


E-Mail This Article » Share your comments on 'The Lord of the Rings: The Return of the King'