More From Ian McKellen On 'Return Of The King'
[Tuesday, July 15th, 2003]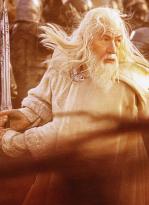 Sir Ian McKellen has posted a new update on his official website on his return visit to New Zealand last month for the last few remaining pickup shots for The Lord of the Rings: The Return of the King.

Next to this there is more of the City of the Kings, a steep slope that curves from street-level round to the battlements above, from which Gandalf inspects the enemy forces as they gather for what Peter Jackson tells me would be "the biggest cinema battle ever" - whether in length or numbers of participants, we shall see. Probably both! This higgledy-piggledy Middle-earth theme park also accommodates a corner of the Green Dragon hostelry and a sand-bagged stretch of mucky water like a moat surrounding Isengard, awaiting the return of Christopher Lee to complete his work as Saruman later this month. This morning I saw a WETA stage-hand carrying a massive manicured set of spider claws which he was lugging toward Shelob's Lair, where Frodo, Sam and Gollum are still trudging their way toward Mount Doom.

These enticing appetisers of the final film are built to withstand Wellington's famous winds, the wintry southerlies that race up from the Antarctic, but they are not designed for the permanent outdoors. Once filming is finally through at the end of July, these mighty sets of plaster, plywood and polystyrene will be destroyed, although details like doors, windows, carvings, statuary and other architectural samples will be stored for future display. I was sorry to have missed the acclaimed Lord of the Rings exhibit which Te Papa, New Zealand's national museum, mounted in Wellington this year. It is now on the road to other galleries worldwide.
More On 'The Lord of the Rings: The Return of the King'...


E-Mail This Article » Share your comments on 'The Lord of the Rings: The Return of the King'