Christoper Lee Scenes Cut From 'Return Of The King'
[Thursday, November 13th, 2003]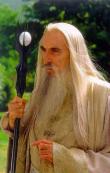 Christopher Lee, who plays wizard Saruman in the Lord of the Rings trilogy, says he was stunned to find out that his scenes from Return of the King had been cut.

Speaking on a UK TV show he said, "Of course I am very shocked, that's all I can say. As far as I'm concerned, I'm only telling you this because it has been revealed on the internet, someone has talked and it certainly wasn't me,"

"If you want to know why you would have to ask the company New Line or director Peter Jackson and his associates because I still don't really know why."

"I can't say any more because I signed a confidentiality agreement and I honoured my word."

When asked whether he would attend the New Zealand world premiere, he said. "No, what's the point? What's the point of going? None at all."
More On 'The Lord of the Rings: The Return of the King'...


E-Mail This Article » Share your comments on 'The Lord of the Rings: The Return of the King'