Ian McKellen Talks 'Return Of The King'
[Friday, November 14th, 2003]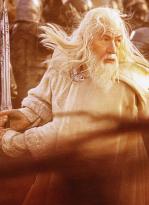 Ian McKellen has posted a new entry in his White Book in which he reveals that he has just last week finished working on The Lord of the Rings: The Return of the King by recording the final scraps of dialogue for the final cut.

I really did work on Lord of the Rings for the last time last week. Two days before the film was to be locked-off, no more changes possible, I was hurriedly called into a Soho sound studio to re-record scraps of dialogue for the completed cut. I had to deliver at full throttle 20 instructions to the troops of Minas Tirith. Three takes each made it 60 times that I bellowed and scraped the larynx, leaving me a little hoarse. Now with a cold on top, I have been a growling Prospero for the Naxos audio of The Tempest, recording at the Royal National Institute for the Blind headquarters in north London.

This has brought me to some old friends, principally the director John Tydeman who is now retired as head of BBC Radio Drama. We were undergraduates together. He was giving notes to the actors this morning and he called me "the wizard." I jumped in indignation thinking "I am Prospero not Gandalf, however gravelly my voice". But then I realised John thinks of Prospero as a wizard too.
More On 'The Lord of the Rings: The Return of the King'...


E-Mail This Article » Share your comments on 'The Lord of the Rings: The Return of the King'