Drew Barrymore Joins Bana In 'Lucky You'
[Tuesday, January 18th, 2005]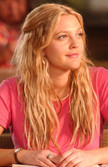 Drew Barrymore is set to join Eric Bana in Warner Bros. Pictures drama Lucky You, according to Production Weekly.

The project, helmed by Curtis Hanson, is set in the world of high-stakes professional poker. The story focuses on Huck Cheever (Bana), a gifted young poker player confronting his personal demons as he attempts to win a world championship tournament in Las Vegas.

Production is expected to begin this March in Las Vegas.

E-Mail This Article » Share your comments on 'Lucky You'