Thomas Janes Leads Marvel Comics 'The Punisher'
[Monday, April 7th, 2003]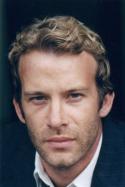 Artisan Pictures and Marvel Studios have tapped Dreamcatcher star Thomas Jane as the lead in the big-screen version of the Marvel comic book The Punisher, according Hollywood Reporter.

'Punisher' follows FBI undercover agent Frank Castle, whose family is executed as a repercussion of his law-enforcement work. With unparalleled intensity, intelligence and fearlessness, Castle sets out to punish the killers, unexpectedly finding redemption in the process.

The project is being produced by Marvel Studios CEO Avi Arad and producer Gale Anne Hurd (The Hulk). Jonathan Hensleigh is the writer-director on the picture, which goes in front of the cameras in early July for a summer 2004 release.

E-Mail This Article » Share your comments on 'The Punisher'