Ben Kingsley Takes On Dinosaurs
[Monday, May 13th, 2002]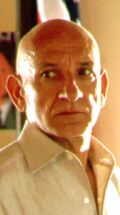 Sir Ben Kingsley is in negotiations to star in the film adaptation of Ray Bradbury's short story "A Sound of Thunder", reports The Hollywood Reporter.

Kingsley, who received an Oscar nomination this year for his role in "Sexy Beast", would star opposite Edward Burns and Catherine McCormack in the film, which is to be directed by Peter Hyams ("End of Days").

The story is about a game hunter who goes in search of dinosaurs on a time-travelling safari, operated by Kingsley's character.
More On 'A Sound of Thunder'...


E-Mail This Article » Share your comments on 'A Sound of Thunder'