Simon Baker Joins 'Sex And Death 101'
[Wednesday, March 8th, 2006]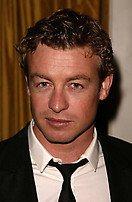 Simon Baker will star in Dan Waters' dark comedy Sex and Death 101, says the Hollywood Reporter.

The story follows a man (Baker) whose life is upended by a mysterious e-mail containing the names of every woman he has had sex with and, eerily, every woman he will have sex with in the future.

The project is written and directed by Dan Waters.
More On 'Sex and Death 101'...


E-Mail This Article » Share your comments on 'Sex and Death 101'