'Sisterhood Of The Traveling Pants' For Alexis Bledel
[Wednesday, April 21st, 2004]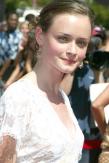 TV's 'Gilmore Girls' Alexis Bledel has signed on to star in Alcon Entertainment's adaptation Sisterhood of the Traveling Pants, according to the Hollywood Reporter.

The project, helmed by Ken Kwapis, is a coming-of-age story which revolves around four friends during the first summer they spend apart. They vow to keep in touch by circulating a magical pair of secondhand jeans that fits each of them perfectly.

Bledel will play Lena, who is going to Greece with her grandparents.
More On 'The Sisterhood of the Traveling Pants'...


E-Mail This Article » Share your comments on 'The Sisterhood of the Traveling Pants'