Sarah Michelle Gellar In 'Southland Tales' Musical
[Sunday, March 28th, 2004]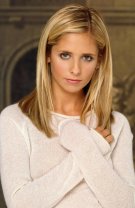 Sarah Michelle Gellar is in talks to star in Donnie Darko writer/director Richard Kelly's new musical film Southland Tales, according to Ananova.

'Tales' is said to be the hotly anticipated follow-up to the cult movie, and is set in 2008 during a three-day heatwave in Los Angeles.

The director says his new film is only a musical "in the postmodern sense of the word".

"There will be some dancing and singing but it will be incorporated into the story in very logical scenarios, as well as fantasy dream environments," he said.

Sean William Scott, Jason Lee and Kevin Smith are also in discussions for the movie.

E-Mail This Article » Share your comments on 'Southland Tales'