Official 'Spider-Man' Website Online
[Saturday, March 24th, 2001]
The official 'Spider-Man' website has just come online. At first glance it seems very impressive, with tons of features and sneak peaks.Heres a screenshot: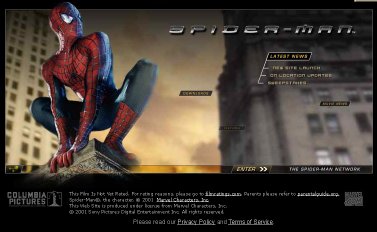 Features include:
Behind-The-Web - Sam Raimi introduces the video with exclusive footage
CGI Test Shot - features Spider-Man crawling up a wall, with beautiful camera angles
Movie News - features cast info, exclusive updates and more
Sweepstakes - Win lots of prizes, including a special advance screening of Spider-Man with 50 friends!
Check out the site by visiting http://www.spiderman.sonypictures.com/!

E-Mail This Article » Share your comments on 'SpiderMan'