James Franco On 'SpiderMan 2' & Third
[Thursday, June 24th, 2004]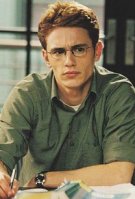 James Franco, who plays Harry Osborn in SpiderMan 2, says he expects a larger role in the third movie. "Am I looking forward to it? Yes," Franco told Sci-Fi Wire. "It's been a great experience, and [director] Sam [Raimi] is wonderful to work with."

In the sequel Franco will play the new Green Goblin. Asked whether he would become the next-generation Goblin, he said. "That's what happens in the comics, but I don't think Sam will be predictable anyway. Who knows what's going to happen in number three?"

For the sequel, Franco says his character remains tortured by his father's death and Spider-Man's involvement with it. "He's very troubled, yeah," Franco added.

E-Mail This Article » Share your comments on 'SpiderMan 2'