'SpiderMan 3' Hires Oscar Winning Writer
[Thursday, January 13th, 2005]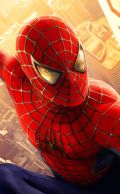 Twice Oscar winning writer Alvin Sargent is to write the third sequel SpiderMan 3 and has signed on for the option to write the fourth sequel, according to Variety.

The deal caps a spectacular second wind for Sargent, who will turn 74 in April and has shown that well-honed character development skills can make a veteran writer more valuable than the twentysomething comicbook geeks who usually get these jobs.

Sargent won his Oscars for "Ordinary People" and "Julia" and was Oscar-nommed for "Paper Moon."

Sargent got sole screen credit on the sequel but also did uncredited rewrite work on the first film, which was penned by David Koepp.

E-Mail This Article » Share your comments on 'Spider-Man 3'