Topher Grace As Villian In 'SpiderMan 3'
[Friday, May 20th, 2005]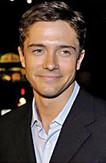 Topher Grace is to play the villian in the new Spider-Man 3, which Sam Raimi is directing, according to the Hollywood Reporter.

Grace is to play one of two villains and is joining the returning cast members Tobey Maguire, Kirsten Dunst and James Franco, all of whom starred in the first two films. Thomas Haden Church also has been cast.

Spider-Man 3 is scheduled for release May 4, 2007.

E-Mail This Article » Share your comments on 'Spider-Man 3'