Thomas Haden Church Talks 'Spider-Man 3'
[Friday, July 28th, 2006]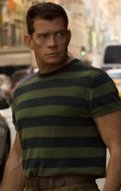 Thomas Haden Church, who plays Flint Marko/Sandman in Spider-Man 3, says that he got into great physical shape for his role. "It was physically daunting to show up last year with the physique of a fishwife and, weirdly, they said, 'This won't work for us,'" Church told Sci-Fi Wire. "[They said,] 'You've got to be more built.' But, actually, [co-star] Topher [Grace, who plays Eddie Brock/Venom,] and I both trained with a team of [physical trainers]."

"He saw slightly better results." added Topher Grace. "No. ... I mean, ... you know, you just ... try to once again ... toe the line and do what's asked of you. ... But it's different. ... It's been a great discipline," Church continued. "I worked out for about probably 16 months, and ... it was a good ... discipline to have in my life. It was very invigorating to reincorporate that."

"I wouldn't say there was trepidation [taking the role], but you know, you have a tradition with the comic book that you have to honor," he said. "And then you look at the requisite storytelling that went on with the first two movies. ... I just wanted to do my part. You know, ... I just wanted to get in the game, be in for one minute, not fumble the ball in the end zone. I just wanted to do what was asked of me, and [director] Sam [Raimi] is ... a real actor's director. I refer to him as Elia Kazan trapped inside this Motor-City-madman, action-picture-director body."

E-Mail This Article » Share your comments on 'Spider-Man 3'