James McAvoy Joins 'Starter For Ten'
[Wednesday, August 24th, 2005]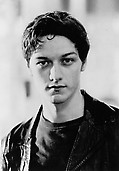 James McAvoy has signed up to star in HBO Films coming-of-age movie Starter for Ten, according to the Hollywood Reporter.

The feature, helmed by Tom Vaughan, will focus on a working-class student (McAvoy) who stumbles romantically and academically through his first year at a posh private university in England.

It is based on UK best-sellers David Nicholls' book, who also wrote the screenplay.

E-Mail This Article » Share your comments on 'Starter for Ten'