J.J. Abrams Takes On 'Star Trek 11'
[Friday, April 21st, 2006]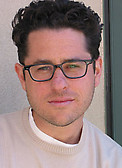 Mission: Impossible III director J.J. Abrams is coming aboard to produce and helm Star Trek 11, says Variety.

The feature, which will also be written by Abrams, will center on the early days of seminal 'Trek' characters James T. Kirk and Mr. Spock, including their first meeting at Starfleet Academy and first outer space mission.

The studio is said to be aiming for a 2008 release.

E-Mail This Article » Share your comments on 'Star Trek'