Scott Speedman Joins Tyler In 'Strangers'
[Wednesday, October 11th, 2006]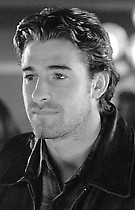 Scott Speedman is set to star opposite Liv Tyler in Rogue Pictures' suspense thriller Strangers, says the Hollywood Reporter.

The feature, which will mark screenwriter Bryan Bertino's feature directorial debut, will see Speedman and Tyler portray a couple living in a remote house who come under attack by three masked strangers (including one played by model Gemma Ward) and have to fight for their survival.

The film, which began production Monday in South Carolina, is slated for a September release.

E-Mail This Article » Share your comments on 'The Strangers'