Martin Short In 'Santa Clause 3' Talks
[Thursday, September 15th, 2005]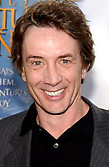 Martin Short is in final talks to play the villain in Walt Disney Pictures The Santa Clause 3, according to the Hollywood Reporter.

Short will play Jack Frost, who tries to take over Christmas from Santa Claus. Tim Allen returns as Santa, aka Scott Calvin, who struggles to keep his new family happy while battling Frost.

Michael Lembeck will direct the project, which is currently scheduled to begin shooting November 14th for a holiday 2006 release.
More On 'Santa Clause 3: The Escape Clause'...


E-Mail This Article » Share your comments on 'Santa Clause 3: The Escape Clause'