Paramount To Adapt 'A Treasure's Trove'
[Wednesday, February 9th, 2005]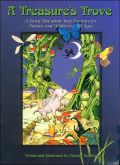 Paramount are going to adapt Michael Stadther's bestselling children's book A Treasure's Trove, according to Variety.

A Treasure's Trove, caused a sensation over the clues in the book that lead to a dozen gold tokens hidden in public places in the U.S. and are redeemable for jewels worth a total of $1 million. The author hid the tokens himself and insists they can be accessed without digging, moving or disturbing objects or structures.

Stadther's book, whose full title is "A Treasure's Trove: A Fairy Tale About Real Treasure for Parents and Children of All Ages," revolves around 12 forest creatures who employ a woodcarver, his half-elf wife and their winged pet to save their friends who disappear after being crystallized by falling dust.

Stadther, who also illustrated the book, was able to bankroll its publication from selling off his banking software company five years ago. No one has yet found one of the gold tokens.
More On 'A Treasure's Trove'...


E-Mail This Article » Share your comments on 'A Treasure's Trove'