First Pictures Of Arnie In Terminator 3
[Thursday, April 25th, 2002]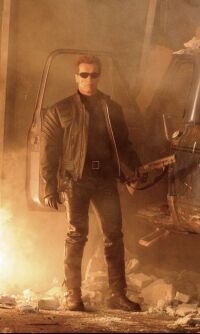 The Arnold Fans has got his hands on the first picture of Arnold Schwarzenegger as the T-800 machine or more famously as The Terminator, in the sequel "Terminator 3: Rise of the Machines"

The movie has been filming for just over a week and heres a report from a scooper to AICN :

The shooting has mostly been outside what seems to be an animal hospital and an auto parts/garage. No sign of Arnold yet but I have seen the female terminator. She's very tall and lean with slick blonde hair pulled back into a bun and wearing a sort of brick red leather outfit.

The sequences I have seen included one where someone tries to approach her and she basically shoves them 50 feet into a wall. They also did a lot of close-ups of another girl driving a vet hospital truck being attacked in the front seat.

Last night was most eventful though. It took over an hour and a half to rig a big effects scene but the payoff was worth it. A dummy of the female terminator was strapped to the front of an off roading truck. There was a Lexus parked sideways against the vet hospital wall. When cameras rolled, the truck & terminator plowed into the Lexus which rammed into some propane tank causing a huge explosion. The sound and heat wave was intense but the crowd which had been watching across the street went nuts.

I was standing next to a guy who was monitoring what was happening over the walkies. He said he heard them planning earlier in the day for a chase sequence which is to take place tonight. If it's anything of interest, I'll let you know.

The movie is set for a 2 July 2003 release.
More On 'Terminator 3: Rise of the Machines'...


E-Mail This Article » Share your comments on 'Terminator 3: Rise of the Machines'