Nick Stahl Talks Terminator 3
[Tuesday, April 30th, 2002]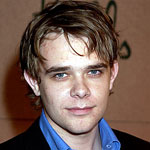 Nick Stahl who will play John Connor in "Terminator 3: Rise of the Machines" - spoke with Entertainment Weekly about his role in the expected blockbuster:

Is this the kind of role that demands abs of steel?
I'm not quite there yet, but for the first few weeks of filming I have very few scenes, so that buys me some time to get in better shape. I like physical roles like this since I need excuses to work out; I haven't the willpower to do it on my own.

Has training forced you to cut out all bad habits?
Not really. After working out, there's nothing like a cigarette. And I figure that your body just works that much harder if you have the lungs of a 4-year-old.

Everyone from Edward Norton to Shane West was rumored to be up for this role. How tough was the audition process?
I auditioned about five times, and there were three screen tests, which is more than I've done for any movie. But the director, Jonathan Mostow ["U-571"] is a pretty thorough guy -- probably because everyone knows there's going to be constant comparisons to the first two films.

Click on the above to read more!
More On 'Terminator 3: Rise of the Machines'...


E-Mail This Article » Share your comments on 'Terminator 3: Rise of the Machines'