Kristanna Loken Talks Playing The Terminatrix
[Wednesday, July 9th, 2003]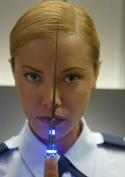 Kristanna Loken has been speaking with Cindy Pearlman about landing the part of the Terminatrix in Terminator 3: Rise of the Machines.

Loken must be doing something right. She was chosen from more than 10,000 women, reportedly including Famke Janssen and Joanie Laurer (the former pro wrestler known as Chyna), to play the Terminatrix. Before filming, Loken practically lived in the gym--although there were no tips for the hardest part of the job, which all women who have ever ran for the L will surely understand. "It kills to sprint in heels. You run on your toes," she moans. "I also had my body thrown in all these precarious, almost inhuman postures."
More On 'Terminator 3: Rise of the Machines'...


E-Mail This Article » Share your comments on 'Terminator 3: Rise of the Machines'