Patrick Stewart Confirms 2005 Release For X-Men 3
[Tuesday, February 3rd, 2004]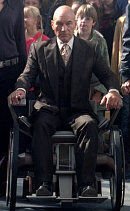 Patrick Stewart, who plays Professor X in the X-Men series, says that he expects the next movie to be released next year. "X-Men 3 should come out in 2005," Stewart told the Bradenton Herald.

At the Sarasota Film Festival Stewart said that he hopes the franchise will continue for several more movies.

On the Star Trek franchise, he says he doesn't expect to reprise his role any time soon. "I think Star Trek is over. And that ain't such a bad thing. The last movie [Star Trek Nemesis] didn't do well. ... But I'm sure all you saw it."
More On 'X-Men 3: The Last Stand'...


E-Mail This Article » Share your comments on 'X-Men 3: The Last Stand'