Rebecca Romijn-Stamos Back For 'X-Men 3'
[Monday, April 19th, 2004]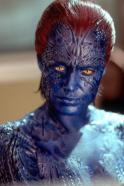 Rebecca Romijn-Stamos has confirmed that she will be returning for X-Men 3, reprising her role as the shape-shifting Mystique.

"I'm dreading the makeup part, but nothing else," she told Sci-Fi Wire. "I'm so happy to be a part of that franchise, and I love those people. It's a really exciting thing to be a part of."

Romijn-Stamos says she hasn't received details of her role in the third movie, but hopes to be able to show that she's more than a pretty face. "I think you need a lot more than beauty to be a great actress in this world," she said. "There's lots of beautiful women out there. I think sometimes you have to remove that whole element of physical beauty in order to get people to see that you're actually a really talented person, because sometimes people just can't get over it. But that's the joy of acting. You get to embody these different characters and turn yourself into somebody else, my own example being Mystique."
More On 'X-Men 3: The Last Stand'...


E-Mail This Article » Share your comments on 'X-Men 3: The Last Stand'