James Marsden Talks 'X-Men 3'
[Tuesday, June 15th, 2004]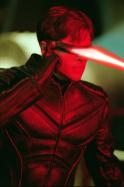 James Marsden, who plays Cyclops in the X-Men series, says that one of the core characters may not be back for X-Men 3. "I think everyone will be back with the exception of one person," he told About's Fred Topel.

Asked whether this person was Halle Berry, he replied, "I don't know that for a fact though because I just spoke with the writers and they said, "Oh, it might not be the case." So I don't know. I have no idea. I talked to Hugh Jackman the other day and he said, "Do you know anything about X3?" And I said, "I haven't a clue." "All right, when they call you, tell me. Call me and tell me.""

Regarding Bryan Singers ambitions to return to the directors chair, he said, "Yes, I know he really wants to. I think he's also trying to figure out scheduling the shoot against he's doing Logan's Run. So he's trying to figure that out, so there's lots of things. Although, Fox already nabbed the weekend of May 2nd, 2006 to release X-men 3 but that's subject to change as well. It could go to Christmas."
More On 'X-Men 3: The Last Stand'...


E-Mail This Article » Share your comments on 'X-Men 3: The Last Stand'