Joss Whedon Denies 'X-Men 3' Involvement
[Tuesday, October 26th, 2004]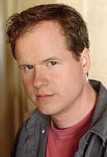 'Buffy the Vampire Slayer' creator Joss Whedon dismissed rumors and confirmed that he won't be writing or directing X-Men 3. "I did promise I would say whether or not I'm going to be directing the third X-Men movie, and the answer is, I'm sorry to say, no," Whedon told Sci-Fi Wire. "Quite frankly, I thought about it for a long time, I looked into my heart, and I realized that Fox didn't ask me to," he added, with tongue in cheek.

Whedon added, "Ultimately, the fact that I'm writing the X-Men every month in the Astonishing X-Men [Marvel comic] and that I have the best artists in comic books working with me is getting my 'X' fix on just fine. I'm writing a screenplay of my own right now, and it'll be nice to work on something that wasn't created by me or anybody else many years ago."
More On 'X-Men 3: The Last Stand'...


E-Mail This Article » Share your comments on 'X-Men 3: The Last Stand'