Alan Cumming Talks 'X-Men 3' Status
[Monday, January 31st, 2005]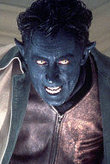 Alan Cumming, who plays Nightcrawler in the X-Men series, says he's not too worried that Bryan Singer won't be returning to direct X-Men 3. "I'm not, and I can't deny it," Cumming told Sci-Fi Wire. "I think he's really talented, and I'm really proud of the filmóI think it's a great filmóbut I didn't enjoy working with him on it." Cumming wouldn't comment further.

Cumming says he's not sure who will helm the next installment but says that he was scheduled to start filming in June, a date he doubts will hold firm. "It's a really hard act to follow," Cumming said. "The last I heard is that they are starting on the 20th of June, but I don't think that's going to happen, because they don't have a script or a director yet. It might be pushed up, but they have to release it in May of 2006 for some reason, so it's got to be shot in the summer." X-Men 3 is currently scheduled for a May 2nd, 2006 release.
More On 'X-Men 3: The Last Stand'...


E-Mail This Article » Share your comments on 'X-Men 3: The Last Stand'