Halle Berry Hurling On 'X-Men 3' Set
[Monday, March 6th, 2006]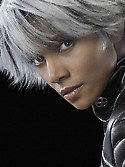 Halle Berry has revealed that after a number of stunts she has been throwing up on the set of X-Men 3.

For her chracter Storm, she had to perform flying scenes. "There was a lot of wirework and spinning," she told The Sun. "By the end of the scene I was off the wire and walking back to the trailer - then blurrrgh! I hurled."

X-Men 3 is set to hit theaters May 26th.
More On 'X-Men 3: The Last Stand'...


E-Mail This Article » Share your comments on 'X-Men 3: The Last Stand'