Ian McKellen Talks 'X-Men 3: The Last Stand'
[Tuesday, May 9th, 2006]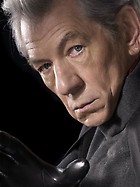 Ian McKellen, who reprises his role as Magneto in X-Men 3: The Last Stand, says director Brett Ratner's job was made difficult due to him joining the feature late. "Bryan Singer left the project rather late in the day, and Brett Ratner didn't replace him until eight weeks before they started shooting," McKellen told Sci-Fi Wire. "Well, you normally need eight months to set up a movie, not eight weeks. So it's no wonder I did my last bit of Magneto [the first week of May], and the film is going to be released in three weeks' time. I mean, poor Brett Ratner was up against it and was running against the wind the whole time. Well, that's a happy ending, because everyone is extremely pleased with X-Men 3. So that's worked out."

McKellen says he didn't fret when he found out Singer wasn't directing the third movie. "I'd worked with Bryan on three movies, so not to make a fourth wasn't a desperate disappointment to me," McKellen said. "Anyway, I assumed he was going to give me a nice, juicy part in Superman Returns. But, no, it didn't turn out to be that way. But we're still good friends."

McKellen had plenty of good words to say about Ratner. "Brett couldn't be further from Bryan, really. Brett is a party animal. And that's a compliment, because I think a director who can't hold a decent party probably won't be a good director. They're very similar qualities. You have to be able to look after all your guests and make sure they've got the drink they need and that if they're vegetarian, they're not given chicken. Do you know what I mean? You've got to really look after people and treat them all as individuals. People who can run good parties can often direct well, and Brett is of that sort. He's always full of energy. He's always enthusiastic and he will not let go—and he's got this in common with Bryan Singer—until he's got what he wants. And when he's got what he wants, you can all heave a sigh of relief, because he really will have it. Then it will be a question of cutting it all together. So, no complaints."
More On 'X-Men 3: The Last Stand'...


E-Mail This Article » Share your comments on 'X-Men 3: The Last Stand'