Narc, Jason Patric Joins 'The Alamo'
[Tuesday, January 7th, 2003]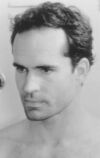 Jason Patric

Jason Patric ("Narc") has signed to play famed frontiersman Jim Bowie in "The Alamo," reports Variety.

Patric joins Dennis Quaid, Billy Bob Thornton and newcomer Patrick Wilson in the pic's four meatiest roles.

Shooting begins late this month on a 40-acre replica of the Alamo built by Disney in Austin.

John Lee Hancock-directed drama will be released by Touchstone around Christmas.

E-Mail This Article » Share your comments on 'The Alamo'