First Look Of Billy Bob As Davy Crockett In 'The Alamo'
[Saturday, March 8th, 2003]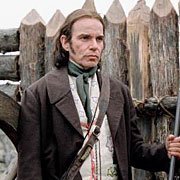 USA Today have been speaking with Billy Bob Thornton about his starring role as Davey Crockett in Touchstone Pictures The Alamo.

"I'll put it this way," says Thornton in his waggish drawl. "I'm no stranger to this character. There are legends about my life. Some are true. Some aren't."

The similarities did not escape the notice of Alamo director John Lee Hancock (The Rookie). "Billy and Crockett share a certain public/private persona," the Lone Star native says. "They are both whip-smart country boys who can thrive in the bright lights as well as the backwoods. Having this understanding of the two very different sides of himself makes Billy perfect to play a man grappling with this very issue."

The Alamo, with an estimated budget of $80 million, co-stars Dennis Quaid as hard-drinking Sam Houston and Jason Patric as knife-wielding Jim Bowie. But of all the flawed heroes who sacrificed their lives in 1836 to free Texas from Mexico, Crockett looms largest.

The Alamo is expected to open in the US December, 2003.

E-Mail This Article » Share your comments on 'The Alamo'