Jim Carrey And Cameron Diaz To Team Up
[Monday, July 14th, 2003]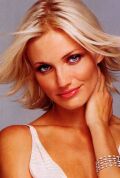 Cameron Diaz is in negotiations to star opposite Jim Carrey in the title role of Fun With Dick and Jane for director Barry Sonnenfeld according to The Hollywood Reporter.

In Fun, a remake of the 1977 comedy starring George Segal and Jane Fonda, Diaz will play half of an economically distressed married couple who resort to a life of crime.

She will be rejoining Carrey, whom she worked with in her first major movie The Mask.
More On 'Fun With Dick and Jane'...


E-Mail This Article » Share your comments on 'Fun With Dick and Jane'