Tea Leoni To Replace Diaz In 'Dick And Jane'
[Thursday, July 22nd, 2004]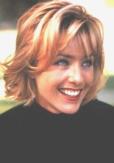 Tea Leoni is in talks to replace Cameron Diaz in Columbia Pictures' Fun With Dick and Jane, according to the Hollywood Reporter. Diaz is said to be stepping aside because of a scheduling conflict arising from a change of dates.

Leoni will play the role of Jane in the remake of the 1977 comedy, which has been updated to revolve around a spokesman for a big company who finds himself jobless and an outcast following some dodgy extracurricular activities.

In the original film, Jane Fonda and George Segal played an upper-middle-class couple that turned to pulling heists to pay their bills.
More On 'Fun With Dick and Jane'...


E-Mail This Article » Share your comments on 'Fun With Dick and Jane'