Toni Collette Gets 'In Her Shoes' Opposite Diaz
[Tuesday, January 6th, 2004]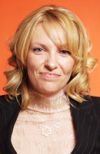 Toni Collette is to star opposite Cameron Diaz in the adaptation of the bestseller In Her Shoes according to Variety.

Curtis Hanson will direct the romantic comedy, which Susannah Grant (Erin Brockovich) adapted from Jennifer Weiner's novel.

Collette will play a straitlaced attorney who is forced to house her underemployed party girl of a sister (Diaz).

Collette's casting comes on the heels of critical kudos for her performance in Japanese Story, she also played the very memorable role of Murial in 1994 Muriel's Wedding.

In Her Shoes begins shooting next month.

E-Mail This Article » Share your comments on 'In Her Shoes'