Lil' Bow Wow To Make Big Screen Debut
[Monday, April 16th, 2001]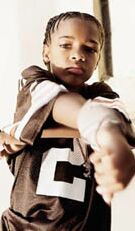 Fourteen-year-old rap star Lil' Bow Wow is set to make his big screen debut in 'Like Mike,' about a kid who finds a pair of sneakers with magical powers worn by basketball superstar Michael Jordan, says Variety. While maintaining his youthful frame, the teen is transformed into a hoops hero, and gets a chance to play in the NBA.

The trade says that the script was written by Michael Elliot, who sold the project to 20th Century Fox last Friday. He got the 'Like Mike' idea from one of his TV creations, the MTV series 'Hip Hopera,' which reinterprets classic operas with a hip-hop slant.

"The inspiration was Bow Wow, who I met on the set," said Elliot. "He loves basketball, loves Michael Jordan, and he's an exceptional basketball player. It's every kid's dream to play in the NBA, and it's not like 'Big,' where he becomes a man. In this case, it's more fun if he stays a kid."

E-Mail This Article » Share your comments on 'Like Mike'