Ian McKellen Provides 'Return Of The King' Update
[Wednesday, June 25th, 2003]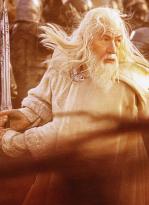 Ian McKellen has posted an update on his official site for the reshoots that took place earlier this month for The Lord of the Rings: The Return of the King.

My work revolves around a few new lines that will be cut within scenes otherwise completed over two years ago, some of which I have no recollection of having read, let alone learnt and filmed! It's little wonder that the director has had the same problem, solved by replaying shot footage on a palm-sized video recorder (labelled "My Precious Clam-shell") and consulting the shooting notes of Victoria Sullivan, in charge of script continuity.

In his family-sized cinema in the Jackson home I was shown a so-called "fine cut" or "text cut", which roughly tells the story and has no special effects cut into the actors' scenes. It was fun to admire Andy Serkis himself cavorting as Gollum before his motion had been captured in a computer and turned into MTV's fave actorless role of last year.

Seeing this three hour version, without Howard Shore's music or Jackson's editing, let alone the visual and sounds effects, I could easily tell why everyone here is agreed that this last film will be the best of the three. Some situations are effortlessly tear–provoking and the physical excitement and pageantry eclipse even the Helm's Deep fighting of the Two Towers.

Check out more by hitting the link above!
More On 'The Lord of the Rings: The Return of the King'...


E-Mail This Article » Share your comments on 'The Lord of the Rings: The Return of the King'