100,000 Fans At 'Return Of The King' Premiere!
[Monday, December 1st, 2003]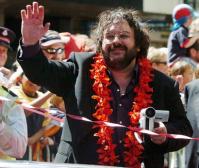 The world premiere for The Lord of the Rings: The Return of the King has attracted over 100,000 fans in the streets of New Zealand capital Wellington, according to the BBC.

Cast and crew from the movie all took part in the street parade, which was started by Prime Minister Helen Clark, before walking on the 515 yard (470m) red carpet outside the city's Embassy Theater.

"I'm feeling incredibly humbled by this wonderful reception," said director Peter Jackson at the premiere. He also said that the adulation made those involved feel like they were "the first people to land on the moon or something."

"I'm incredibly proud of what's happening, but it's just a personal thing," he said. "You can only do what you can do. You do the very best job you can... I don't think I have any regrets."

Jackson says he is looking forward "to becoming a New Zealand film-maker again" after his next King Kong project.

He also expressed interest in making The Hobbit, although he added that he had not been asked.

New Line Cinemas Mark Ordesky, however, told a press conference that "There could be a movie about The Hobbit."
More On 'The Lord of the Rings: The Return of the King'...


E-Mail This Article » Share your comments on 'The Lord of the Rings: The Return of the King'