Eric Bana Set To Lead 'Lucky You'
[Wednesday, September 22nd, 2004]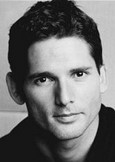 Eric Bana has landed the lead role of Huck Cheever in Warner Bros. Pictures Lucky You, says the Hollywood Reporter.

The project, helmed by Curtis Hanson, is set in the world of high-stakes professional poker. Production is to begin early next year in Las Vegas.

Bana will next star in Steven Spielberg's chronicle of the 1972 Munich Olympics, Vengeance.

E-Mail This Article » Share your comments on 'Lucky You'