Winona Ryder Joins 'Sex And Death 101'
[Friday, June 2nd, 2006]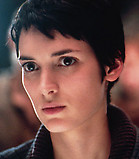 Winona Ryder has signed on to star as a feminist vigilante who becomes an urban folk hero in Daniel Waters Sex and Death 101, says the Hollywood Reporter.

The story follows a man (Simon Baker) whose life is upended by a mysterious e-mail containing the 101 names of every woman he has had sex with and, eerily, every woman he will have sex with in the future.

He is stopped in his tracks when he meets Ryder, a femme fatale who targets men guilty of sex crimes against women.
More On 'Sex and Death 101'...


E-Mail This Article » Share your comments on 'Sex and Death 101'