Serkis & Fry Join 'Stormbreaker' Cast
[Monday, July 18th, 2005]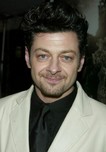 Andy Serkis and Stephen Fry have joined the cast of Stormbreaker, says Variety.

The movie, helmed by Geoffrey Sax, is based on the first book in Anthony Horowitz's bestselling series about teen spy Alex Rider. Serkis will play a henchman of the movie's villain (Mickey Rourke). Fry will play an MI6 boffin who works undercover as a toy shop assistant.

The $40 million project is shooting on the Isle of Man.

E-Mail This Article » Share your comments on 'Stormbreaker'