Liv Tyler To Star In Thriller 'Strangers'
[Monday, August 7th, 2006]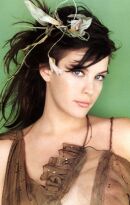 Liv Tyler has signed to star in Strangers for writer-director Bryan Bertino, according to the Hollywood Reporter.

Strangers is a suspense thriller revolving around a couple in a remote suburban house who are targeted by three dangerous masked strangers. Tyler will play the female half of the couple.

The male role is out to actors, as are the roles of the home invaders. Production will begin in the fall with an eye for an October 2007 release.

E-Mail This Article » Share your comments on 'The Strangers'