Mostow In Talks For Terminator 3
[Tuesday, March 27th, 2001]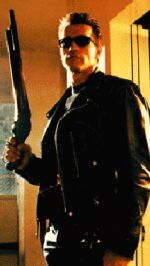 Director Jonathan Mostow is said to be in serious talks to direct the third installment of the 'Terminator' series, according to Variety Magazine. Mostow has previously directed 'U-571', which has won a oscar for 'Best Sound'.

Mostow is trying to get Schwarzenegger to star in the movie as Variety magazine have reported they have had several meetings to try and firm up a deal. He also wants Edward Furlong (John Conner) to do the movie. Linda Hamilton will not continue her role as Sarah Connor. Famke Janssen who played Dr. Jean Grey in 'X-Men' is also starring.

Tedi Serafian's script reportedly pits Schwarzenegger's cyborg against an indestructible female robot, which could be Janssen, yet nothin is confirmed.

It was thought that director James Cameron 'Titanic', ex-husband of Hamilton, would once again take on the challenge of Terminator after directing the first two.
More On 'Terminator 3: Rise of the Machines'...


E-Mail This Article » Share your comments on 'Terminator 3: Rise of the Machines'