'Terminator 3' Toyota Truck Images
[Wednesday, January 8th, 2003]
The guys at Latino Review have posted some shots taken at the Auto Show in LA of the Toyota Truck used in the 'Terminator 3' movie.
This same truck is the one that Arnorld Swartznegger steals from the veterinarian hospital in the movie and is the predominant vehicle in the massive car chase.

Check out the pictures by clicking on the one below.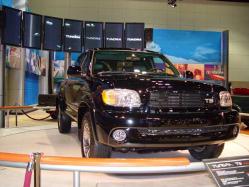 More On 'Terminator 3: Rise of the Machines'...


E-Mail This Article » Share your comments on 'Terminator 3: Rise of the Machines'